Dr. Brandon Nelson, A Board-Certified Surgeon and Bunion Expert, Discusses the Most Common Bunion Surgery In The United States
Dr. Brandon Nelson, A Board-Certified Surgeon and Bunion Expert, Discusses the Most Common Bunion Surgery In The United States
About 150,000 bunion surgeries are performed every year. Most of these procedures continue to be the Austin bunionectomy or what is called a distal osteotomy. Before we get into what the procedure is let us get a little background as to what a bunion is. A bunion is an inherited foot condition. It occurs when the 1st and 2nd metatarsal separate and create and enlargement on the inside of the foot. Please watch this video to get a general understanding of the bunion. You will need to open the video labeled bunions in the first column titled "Podiatric Medicine" it is the 5th video in that drop down menu.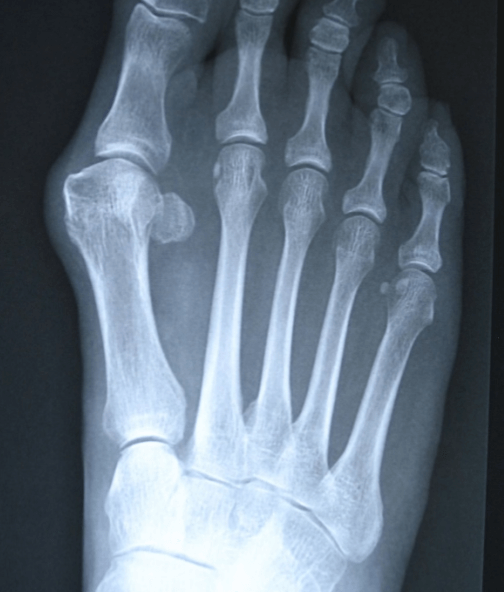 There is a common misconception that something grows on the inside of the foot. However as seem above on the x-ray you can see the 1st and 2nd metatarsal are deviating. The 1st metatarsal is the long bone on the left side of the picture and the 2nd is the long bone directly to the right of the 1st. The 1st metatarsal continues to separate and begins to poke out the side of the foot leading to the bunion deformity we are familiar with.
Surgery is the only way a bunion can be removed. The surgery involves working on the head or base of the foot. The head of the 1st metatarsal in towards the top of the picture and the base is towards the bottom. The most common procedure continues to be the Austin bunionectomy.
The Austin bunionectomy involves cutting the head of the metatarsal and shifting it back into place, or towards the 2nd metatarsal. Please watch the video below to see an example of the Austin bunionectomy.

http://www.physicianwebpages.com/animator/austin_l.html
The typical Austin bunionectomy patients can walk the entire time post-operatively because of the technique I use. I tell my patients you will be sore for a few days but able to walk. The recovery depends on the patient's overall health and how well they follow post-operative protocols. I have taken years to develop my post-operative protocols and do everything possible to decrease recovery times. If you have a bunion and would like to have a consultation with a bunion surgery expert please call my office at 425-391-8666 or make an appointment online.