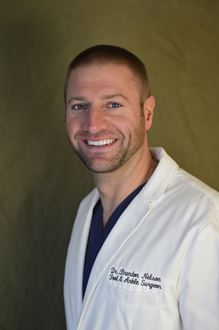 Issaquah Foot & Ankle Specialists
450 N.W. Gilman Blvd. Suite 303 Issaquah WA 98027-2483

425-391-8666
Dr. Brandon Nelson, a double board certified foot and ankle surgeon, was born and raised in the Northwest and attended school in Edmonds before graduating from the University of Washington. He received his Doctor of Podiatric Medicine at Des Moines University and completed his three year residency training at Tacoma General Hospital in functional reconstruction of the foot and ankle. Dr. Nelson has a special interest in foot and ankle surgical repair techniques that minimize down time and help patients return to activities more quickly. He attends numerous foot and ankle conferences annually to learn the latest techniques for foot and ankle surgery.
He is one of the foremost experts on bunions and has pioneered new techniques that create better outcomes. He has extensive experience with the Lapiplasty bunionectomy and has performed thousands of bunion surgeries. He constantly reviews surgical journals and participates in surgical workshops throughout the year. He has cutting edge techniques allow his the patients to walk after bunion surgery and minimizes scar appearance with plastic surgery type closure. He currently performs bunion surgeries every Monday and is happy to provide consultations for bunions. Additionally, he also has an interest in heel pain and its causes. He is in avid exerciser and has struggled with heel pain in the past and so had a special interest in plantar fasciitis. He is one of the founding doctors for a clinic that specializes in heel pain. He lives on Mercer Island with his wife and two children. When not practicing medicine, Dr. Nelson enjoys traveling with his family, fishing and snowboarding.
Awards
Recipient of Seattle Metropolitan Magazine Top Doctor Award - Multiple Years
Education
Des Moines University, Des Moines, IA University of Washington, Seattle, WA
Bachelor of Science in Biology and minor in Fisheries
Doctor of Podiatric Medicine
Residency
Multicare Tacoma, WA
Certifications
Board Certified American Board of Foot and Ankle Surgeons
Board Certified American Board of Podiatric Medicine
Advanced Cardiac Life Support, American Heart
Basic Life Support, American Heart Association Association
Professional Memberships
American College of Foot & Ankle Surgeons
American Podiatric Medical Association
Washington State Podiatric Medical Association
Hospital Staff Privileges
Swedish Hospital Seattle & Issaquah
Foot Surgical Center of Issaquah - Medical Center of Issaquah
Overlake Hospital Bellevue, WA
Issaquah Surgery Center Issaquah, WA
Publications
"External Fixation of Lis Franc Fracture/Dislocations", Washington State Podiatric Medical Association Annual Meeting, 2008, Spokane, WA.
"External Fixation of Intra-articular Calcaneal Fractures", Amercian College of Foot and Ankle Surgeons Annual Meeting, 2008, Long Beach, CA.
"2'-Hydroxycinnamaldehyde Exhibits Potential as an Anticancer Chemotherapeutic Agent", Experimental Biology (FASEB), San Diego, CA.
April 2005; The FASEB Journal 2005;19(4):A552. "Developing an Assay to Identify Potential Chemotherapeutic Efficacy in Original Compounds", Research Symposium, 2004, Des Moines University
"Is H.R. 5 the Answer?", The Innominate, Vol. IX, Issue 1, Oct. 2003:2, Des Moines University