Dr Brandon Nelson, A Board Certified Physician & Surgeon, Discusses How to Heal Quickly Following Bunion Surgery
Dr Brandon Nelson, A Board Certified Physician & Surgeon, Discusses How to Heal Quickly Following Bunion Surgery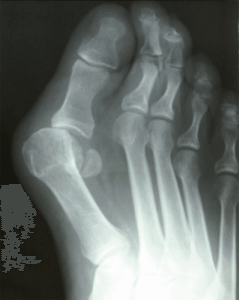 There are a few things patients can do to heal faster from bunion surgery. I will review some ideas that patients can utilize that may decrease healing time frames. Most importantly one must follow the postoperative course as directed by your surgeon. It is important to realize that 2 things need to heal following surgery: soft tissues and bone.
Soft tissues consist of skin, subcutaneous tissues and capsular tissue around the joint. These structures are primarily sutured closed and will typically have sutures in for 10-14 days depending on the site. There are a few supplements that can help to improve healing. I like to have my patients take collagen and zinc and hydrate as these can influence skin healing. Once the wound is closed I encourage the use of silicone and moisturization of the wound. Additionally it is important to start the range of motion of the toe to free up and adhesions.
Bone is the other structure that must heal after bunion surgery. Usually, a bone cut, or fusion is performed. This is dependent on the procedure but there are a few things you can do to speed bone healing. The first being additional calcium and other bone healing nutrients. I like to have my patients take a bone healing supplement and increase the consumption of green leafy vegetables. Additionally, if a bone stimulator is available this can be helpful.
Regardless of the bunion procedure these tips can be helpful in your recovery process. Take care and wish you a speedy recovery. If you are experiencing foot or ankle pain, give us a call at 425-391-8666 or make an appointment online.