Dr. Timothy Young Talks About Prescriptions and Post Procedure Pain Medication
Dr. Timothy Young Talks About Prescriptions and Post Procedure Pain Medication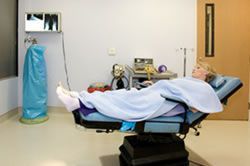 Make sure to get your prescriptions well before bunion surgery, so that they are filled, and you are ready to go. Make sure that you have everything that you need. This can range from narcotic pain medication to something to help for nausea that often accompanies the narcotic pain medication and then you might need antibiotics. If you have antibiotic's we do recommend that you take a probiotic also.
Regarding narcotic pain medication and bunion pain relief, it's a good idea to consider promethazine or even Benadryl. Nausea with narcotics is common and it is best to have a plan to make sure that you can address nausea or be proactive, so it never happens! Medications such as promethazine and can help with nausea. Promethazine can also make a narcotic medication more effective at pain control. Promethazine can cause respiratory depression and it is important to follow your medical advice. We have lowered our dose of Promethazine from 25mg to 12.5 mg to help address concerns with respiratory depression. There are other medications such as Zofran that also help with nausea. Zofran is great because there is an "under the tounge" form that is great if you are already nauseated and cannot keep food down. That beats a suppository! Be aware that many people who take any kind of narcotic such as Vicodin or Percocet often get nausea. You should take promethazine with food and wait 10 or 15 minutes before you take your narcotic pain medication. It can be easy to lose track of what medications that you have taken and when you have taken them. It's a good idea to keep a medication log so you can keep track of the pain medication also and make sure that you're taking them on time with the correct schedule.
If you have questions about hallux valgus bunion surgery or bunion correction, please let us know if you would like a consultation. Give us a call today at 425-391-8666 or make an appointment online.