Dr. Timothy Young Talks About Minimally Invasive Foot Surgery
Dr. Timothy Young Talks About Minimally Invasive Foot Surgery
Traditional
foot surgery
involves an open incision to fully expose and gain full access to the anatomical site being worked on. For example traditional
bone spur surgery
to clean up and arthritic
bunion
site may have an incision approximately 2–3 centimeters in length. With the minimal incision technique this incision could be fraction of that possibly just 1 cm or less. With a small incision the wounds heal faster. With a smaller incision and with less exposure it is possible that some of the bone spurs will not be fully removed.
So it is a compromise. There are times when minimal incision surgery is extremely effective. For example smaller bone spurs on the toes can be removed with a small incision and a burr power. Sometimes a tight tendon can be released through a very small incision. There are some innovative new systems and medical instrument companies that are coming up with techniques to do some procedures through a small incision. The following is an example of minimal incision surgery to remove a spur on the fifth toe. There is a before and after image of the x-ray. The incision on this is typically only 4 mm in length.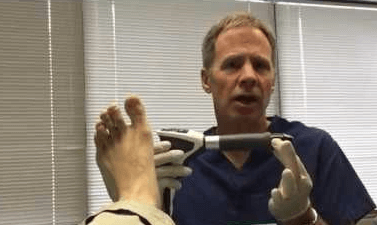 If you have questions about foot problems and or foot surgery please feel free to contact our office at 425-391-8666 or
make an appointment
online today.