Dr. Timothy Young, Board Certified Foot Surgeon Discusses Surgery for a Bunionette or Tailor's Bunion Surgery
Dr. Timothy Young, Board Certified Foot Surgeon Discusses Surgery for a Bunionette or Tailor's Bunion Surgery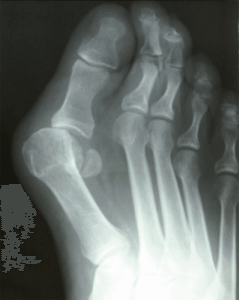 A
tailor's bunion
is a problem, or the fifth metatarsal and the fifth metatarsal head protrude laterally or to the outside of the foot. This causes pressure and pain especially with shoes ski boots etc. This is usually a structural problem. The fifth metatarsal tends to angle outward away from the adjacent fourth metatarsal. Sometimes it is a simple problem and it's just enlargement of the head of the fifth metatarsal. From a
surgical perspective
this can be treated by surgically shaving down the bump. This tends to be a much quicker recovery.
This would involve the incision, surgically incising the joint capsule then shaving down the bone and using a surgical orthopedic burr to smooth that down area. After the bony prominence has been smoothed down and reduced the wound is flushed and the layers including the capsule subcutaneous layer and skin are all surgically repaired and sutured. This tends to be a quick recovery it can be as short as 3 weeks in a cast boot.
If you have concerns about a tailor's
bunion
, please come to our clinic for surgical consultation.
Give us a call today at 425-391-8666 or
make an appointment
online today.