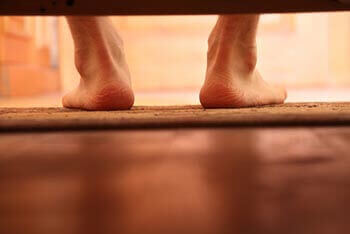 Heel pain can be very challenging no matter when it occurs. It can be common in the morning or after exercise. There are many causes of heel pain and the most common is plantar fasciitis. Plantar Fasciitis is a condition in which the plantar fascia in your foot becomes inflamed.
An inflamed plantar fascia is often characterized by burning or a bruised type sensation one's heel. Many patients describe the fact they feel like they are walking on a marble or pebble. This can get worse as time and activity levels go on and can become quite debilitating. This can be brought on by many causes but most notable is overuse.
Overuse is by far the most common cause. Patients often relate the start of a new exercise program or a new activity. This new activity can put new stresses on your fascia which ultimately leads to inflammation and pain. It is always best to ease into activities as this can help minimize fascial pain. Another key characteristic of facial pain is morning stiffness or irritation.
Morning pain is a hallmark of fasciitis. This is very common and one of the most challenging parts of having plantar fasciitis. This is often because when you sleep and then step down on your foot your fascia instantly becomes irritated. This can be extremely difficult to get rid of and often sticks around for months. This is when it is time to make an appointment with a heel pain specialist. I have been treating heel pain for 15 years and can help you get rid of it quickly. Give us a call today at 425-391-8666 or make an appointment online today.
Sincerely,
Dr Brandon Nelson