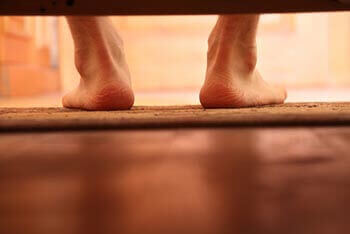 "Ouch my feet are killing me when I get out of bed!" This is what I used to say every morning. Heel pain can be so overwhelming and frustrating, especially if you are having pain with your first step in the morning. I remember those days so well and I could hardly bring myself to get out of bed. Plantar Fasciitis will affect about 60% of all adults at some point in their lifetime.
Heel pain or plantar fasciitis is by far the most common reason people seek care from a foot & ankle physician. Once a physician is involved normally recovery can be extremely fast. I specialize in treating heel pain and can get you back on your feet and on the road fairly quickly. The majority of patients I see are 50-80% better in less than 1 week. The fact I have suffered from it myself keeps me abreast to the latest and most effective techniques available to feel plantar fasciitis.
Not all heel pain is the same. There can be many other causes of heel pain that is why physician care is essential. An x-ray is warranted in order to rule out other causes and start the appropriate treatment. I find experience can be extremely valuable for heel pain care. There are quite a few outliers that can mimic plantar fasciitis. If you are suffering from heel pain I can help! Give us a call at 425-391-8666 or make an appointment online today.
Sincerely,