Dr. Timothy Young Talks About Bunion Surgery in Seattle.
Dr. Timothy Young Talks About Bunion Surgery in Seattle.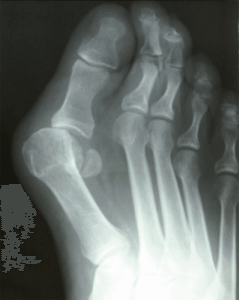 What to expect after bunion surgery with your cast.
Bunion surgery
typically involves realigning the first metatarsal. This may involve a Lapidus or
Lapiplasty
, which is in arthrodesis or fusion of the first metatarsal-cunieform joint. Bunion surgery may involve an osteotomy such as an
Austin bunionectomy
. This involves a bone cut in the head of the first metatarsal which is then realigned and re-positioned. After the arthrodesis or osteotomy it is important for the bone to heal properly. This requires several different factors. One factor is your casting or cast boot to protect that part of your foot as the bone is healing. It is best to put weight on other parts of the foot so that the stress load in the first metatarsal is reduced so that the bone can heal.
With an Austin bunionectomy this can be accomplished with the cast boot or sometimes a surgical shoe.
With the Lapidus or Lapiplasty we put you in a special cast that has a walking heel. This typically goes on between three and eight days after surgery. This allows you to put weight on your heel while protecting the front of the foot so that you can get around. The cast or cast bood should be continued until there is adequate bone healing. Typical bone healing can take between six and 10 weeks depending upon your status. People who smoke will always take longer to heal and may require additional considerations. Quitting smoking is always the ideal scenario.
Remember that after bunion surgery we want to maximize your
soft tissue
and bone healing to get you back to your normal activities as soon as possible.