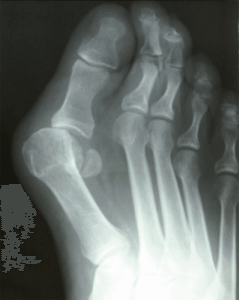 Can you have both the bunion and a ganglion cyst in the same location?
The answer is yes. A ganglion cyst is a cyst that is filled with a viscous clear fluid. This fluid usually comes from an underlying joint or tendon sheath. With a traditional bunion, the great toe starts deviating laterally, and therefore the medial capsule becomes thinner. This thinning capsule is also weaker and it's easier for the inner fluid to herniate out starting the ganglion cyst structure. On x-ray there will be a bunion but increased soft tissue density or thickness of the soft tissue structures over the bunion itself. This ganglion cyst can also be diagnosed with ultrasound imaging. In some cases, the cyst will be soft and compressible on top of the bunion and will seem spongy to exam or palpation.
The ganglion cyst superimposed over the bunion will also make the bunion look worse than the bunion really is structurally. Therefore with an x-ray, one will appreciate the bunion just does not look as bad as you expect compared to when you look at your foot. If you have a bunion or a cyst-like growth on your foot and would like further evaluation please let us know. Either myself Dr. Timothy Young, or my partner Dr. Brandon Nelson would be happy to evaluate this. We have on-site x-rays and ultrasound imaging if necessary. Give us a call at 425-391-8666 or make an appointment online today.