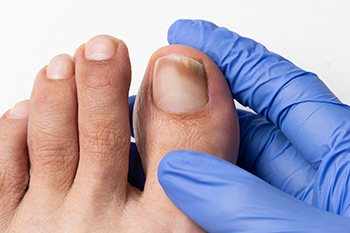 Onychomycosis, commonly known as toenail fungus, is the most prevalent nail disorder, with a growing incidence, particularly among the elderly. This condition is notorious for its stubbornness, requiring prolonged and often ineffective treatments, with frequent recurrences. Beyond affecting the nail's normal function, fungal nail infections can bring pain, an unsightly appearance, disruption of daily life, and negative psycho-social consequences. Patients often grapple with embarrassment, diminished self-esteem, and social withdrawal due to toenail fungus. Recent advances in treatment have emerged, offering more effective solutions. If you suffer from toenail fungus, it is suggested that you make an appointment with a podiatrist to discuss the physical and psychological effects of this condition. Honesty with this medical professional about how much it impacts your life is important in obtaining a more holistic approach to treatment.
For more information about treatment, contact the podiatrists of Issaquah Foot & Ankle Specialists. Our doctors can provide the care you need to keep you pain-free and on your feet.
Toenail Fungus Treatment
Toenail fungus is a condition that affects many people and can be especially hard to get rid of. Fortunately, there are several methods to go about treating and avoiding it.
Antifungals & Deterrence
Oral antifungal medicine has been shown to be effective in many cases. It is important to consult with a podiatrist to determine the proper regiment for you, or potentially explore other options.
Applying foot powder on the feet and shoes helps keep the feet free of moisture and sweat.
Sandals or open toed shoes – Wearing these will allow air movement and help keep feet dry. They also expose your feet to light, which fungus cannot tolerate. Socks with moisture wicking material also help as well.
If you have any questions please feel free to contact one of our offices located in Issaquah, WA . We offer the newest diagnostic tools and technology to treat your foot and ankle needs.
Read more about Treating Toenail Fungus